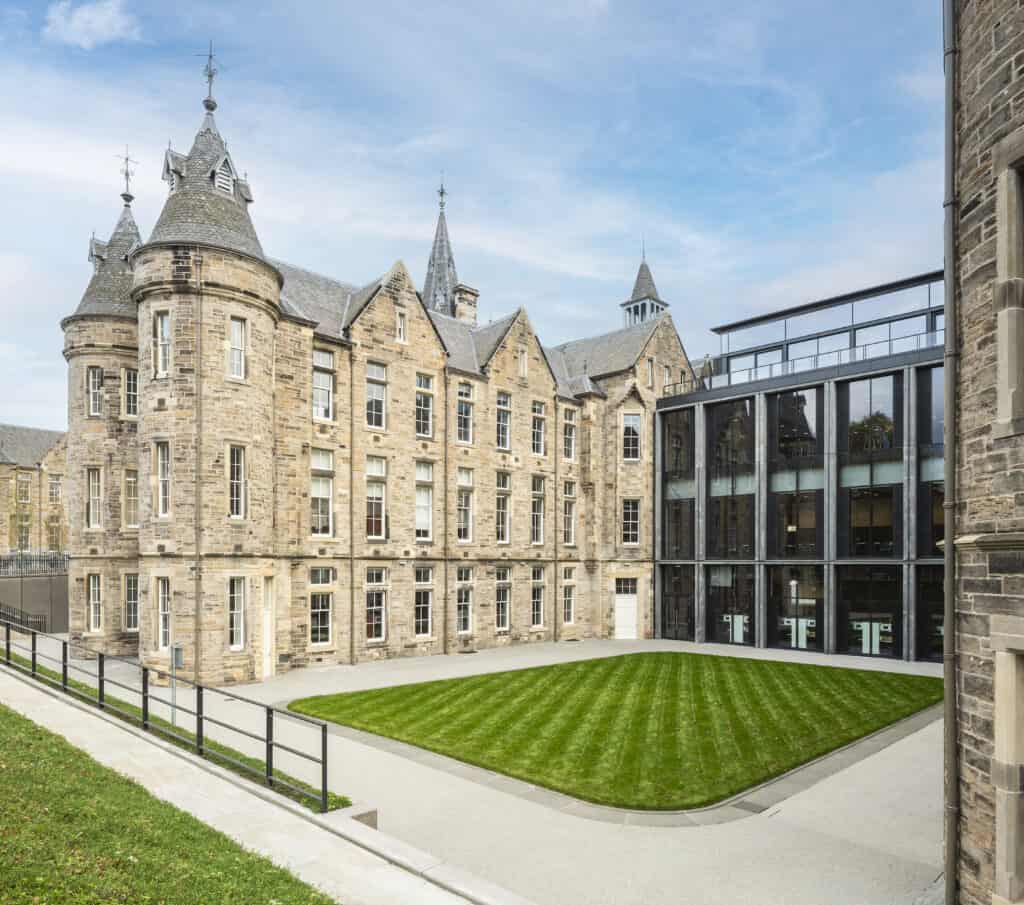 A transformational space
The revitalised building is transforming the local area, creating a major public piazza, new garden spaces, and several new points of access from Lauriston Place, Middle Meadow Walk and Quartermile – opening this historic site once again to the public and welcoming Edinburgh communities, residents and visitors, as well as University of Edinburgh staff and students
Over 5 floors of flexible teaching, working and study spaces
22 meeting rooms​
Specialist learning and making areas including digital maker space, ideation studio, and project rooms
Generous multi-functional spaces for events, festivals and major lectures
Public piazza, outdoor spaces and Café
Take the online building tour
Our online tour features archive pictures, interactive panoramas and aerial footage of the current construction, and architect visualisations of the completed renovation.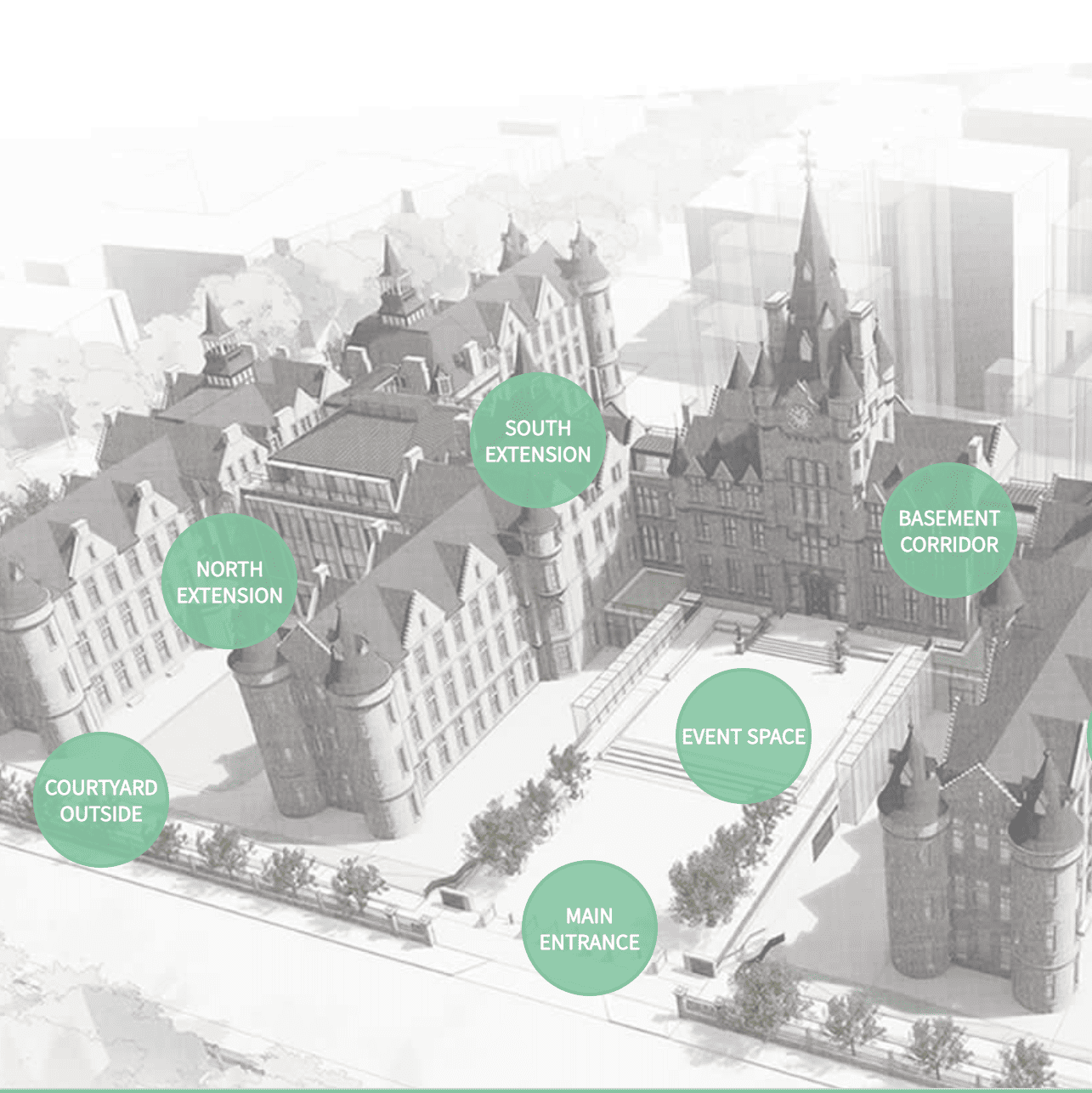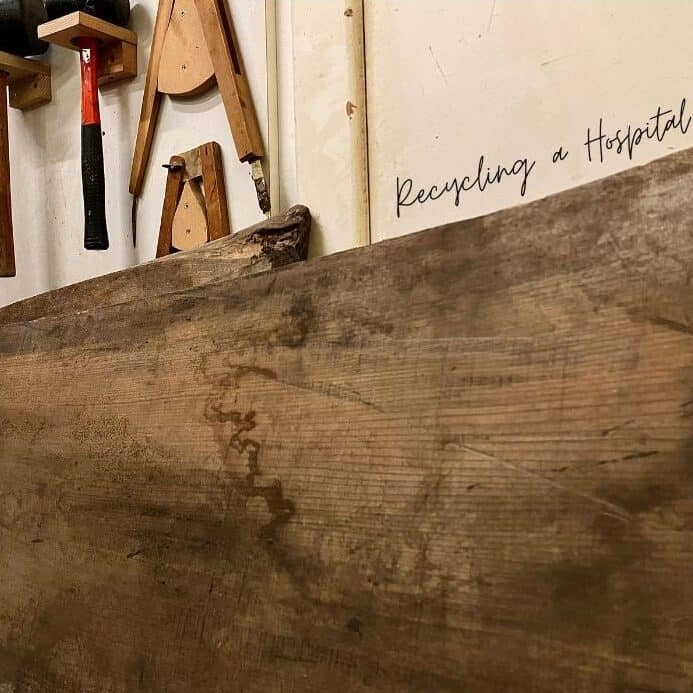 Recycling a hospital
We are honouring memories connected to the Old Royal Infirmary building, interweaving material and immaterial legacies in an artwork that connects woodwork, stonework, and poetry.
Historic roots and restoration
2023
We began moving into our new home in the Old Royal Infirmary building in September 2023. While the full restoration project is not yet complete, some of the new spaces are now accessible to Futures Institute students and teaching staff. This limited initial phase has allowed teaching activities to commence in the building while the site remains under construction and closed until 2024.
Following completion of the building restoration project in 2024, the Futures Institute will be accessible to staff, students and the public, honouring the motto inscribed in stone on the building's wall: "Patet Omnibus". Which means "Open to All".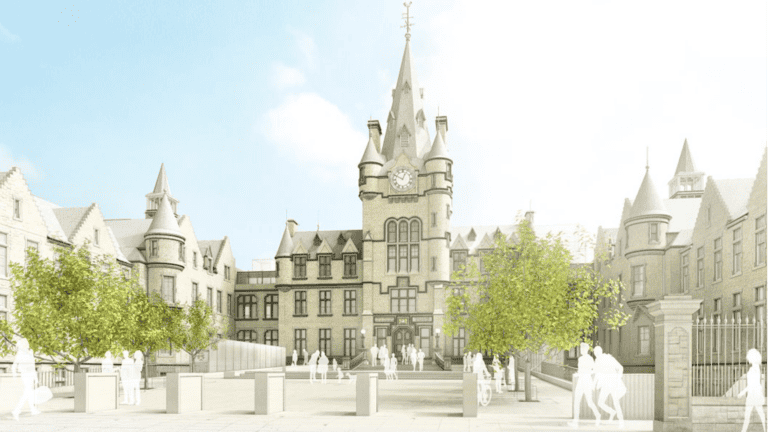 2017
Building work begins on the Category A-listed building to sensitively restore, extend and upgrade it as the home of the Edinburgh Futures Institute. The revitalised building will transform the local area, creating a major public piazza, new garden spaces, and several new points of access from Lauriston Place, Middle Meadow Walk and Quartermile.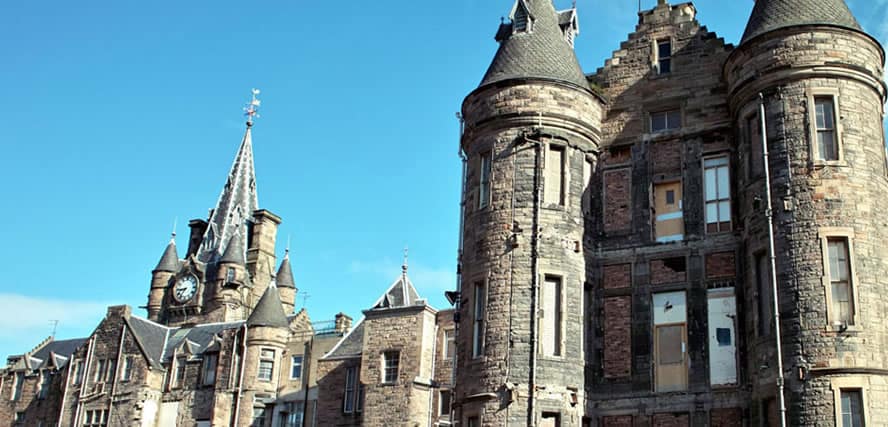 1998
It is decided that the Victorian building was no longer suitable to cater for the demands of a modern hospital. The then Scottish Secretary Donald Dewar signed an agreement to build a brand new Royal Infirmary at Little France, in the south-east of Edinburgh. The move of all hospital operations from Lauriston Place was finally completed in 2003.
1879
The Infirmary opened on Lauriston Place and was described as "probably the best planned hospital" in Britain. Beneath an imposing clock tower, the walls of the marble entrance hall were lined with wood panels listing the new hospital's benefactors. Generations of students from the University's Medical School trained at the Royal Infirmary over the subsequent century.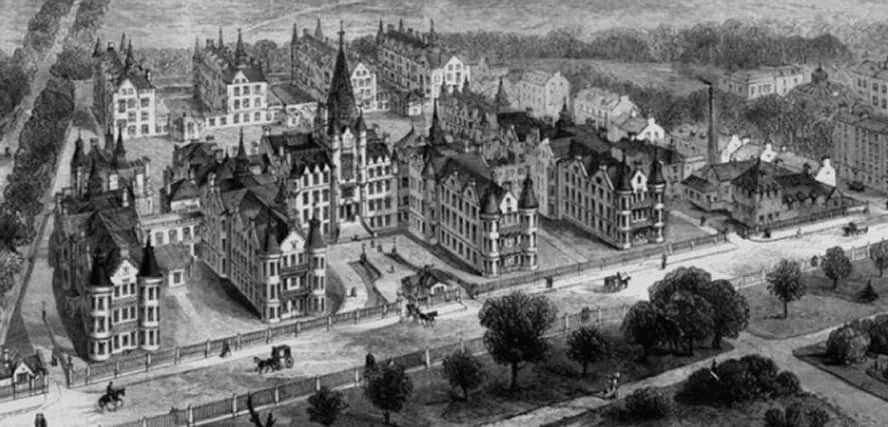 1872
Architect David Bryce, famed for his Scots Baronial style seen in his work at the city's Fettes College and the Bank of Scotland headquarters, was asked to design a new Royal Infirmary. His plans were greatly influenced by the 'pavilion' model developed by nursing pioneer, Florence Nightingale. Each ward was three stories tall with large windows. The rationale was that the increased space and light improved ventilation and reduced mortality rates.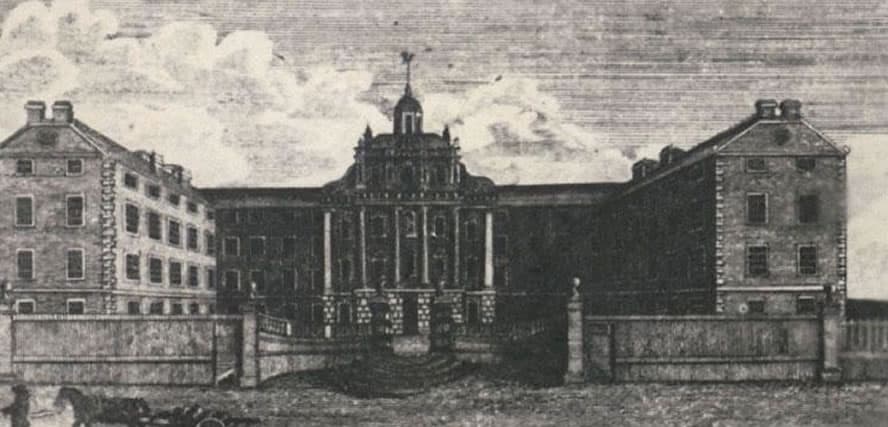 1729
The first Royal Infirmary was based in the 'Little House' at the head of Robertson's Close in Edinburgh's Old Town. The hospital was funded by the public after an appeal by the Royal College of Physicians of Edinburgh. The hospital was widely welcomed, but its facilities were inadequate. There were only four beds.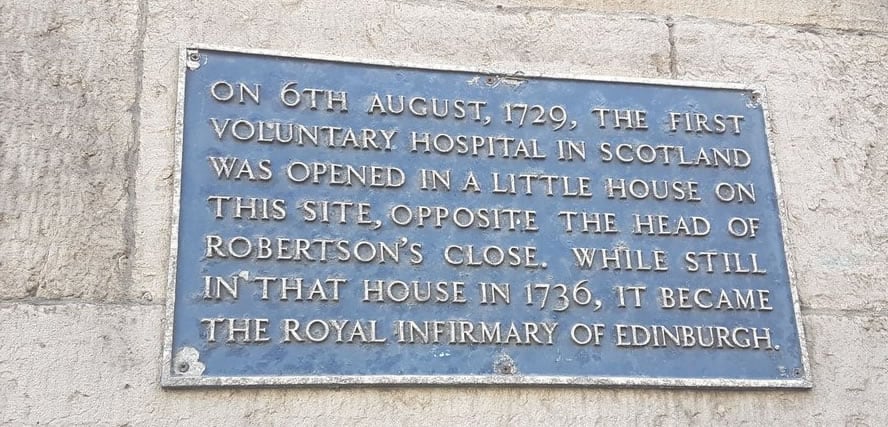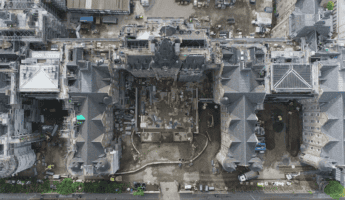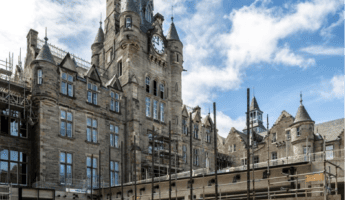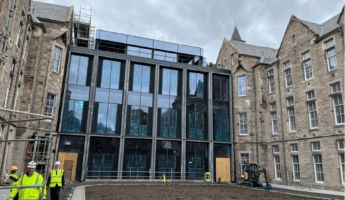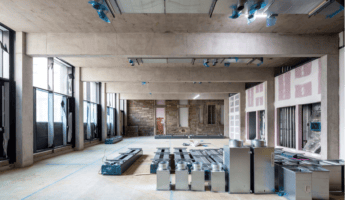 "Transforming the Category A listed Royal Infirmary into the University of Edinburgh's new interdisciplinary quarter is one of those projects that comes up once in a lifetime. The building is one of the top ten listed buildings in the city with enormous potential for renovation.

Far from being an enclosed institution, it will become outward-looking, well-connected and dynamic. It is a privilege to be involved in such a fascinating and pivotal project."

Rab Bennetts, Founding Director of architect Bennetts Associates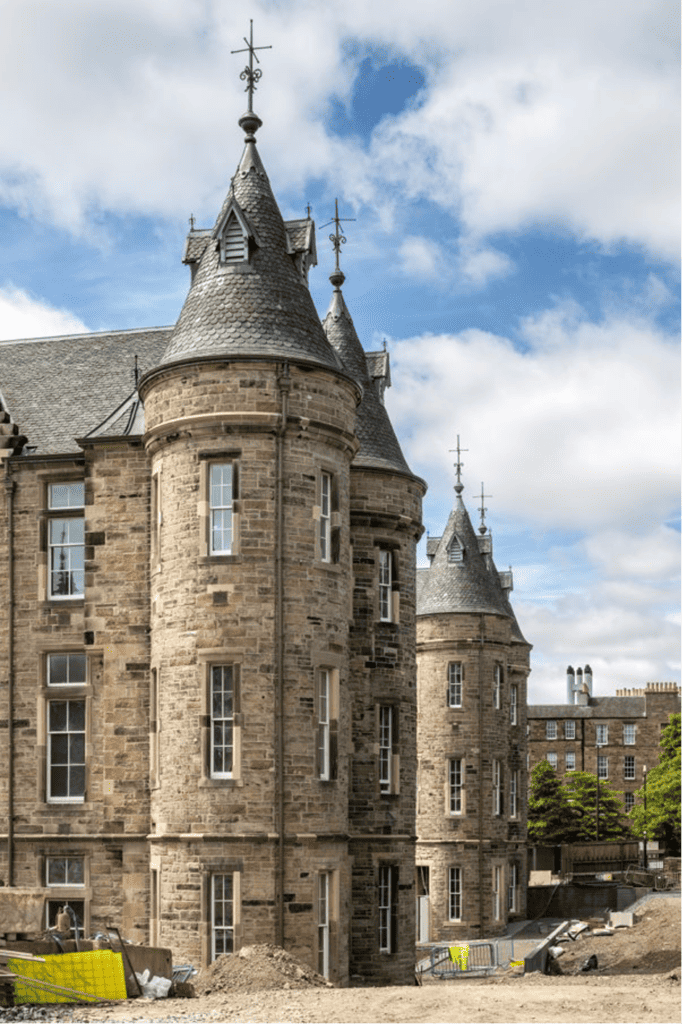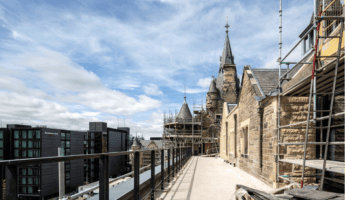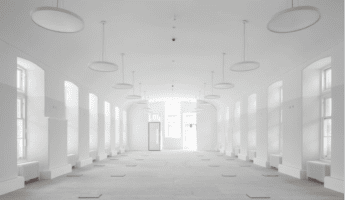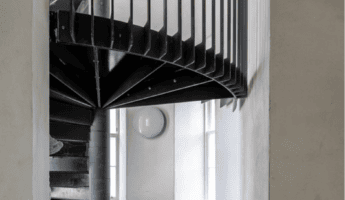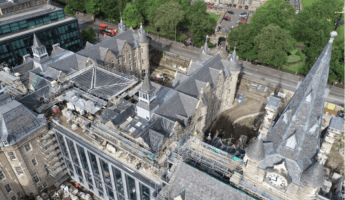 Design and construction delivery team
Balfour Beatty
Bennetts Associates
Faithful+Gould
University of Edinburgh Estates Department
Other contributors
Atkins (Mechanical & Electrical Engineers)
Thomson Bethune (Quantity Surveyors)
Consarc (Conservation Architects)
Will Rudd Davidson (Civil and Structural Engineers)
Ironside Farrar (Landscape Architects)
RMP (Acoustics)
Atelier Ten (Fire Engineer)