Our mission is to provide the best conditions for bringing together the right data and the right expertise to improve outcomes for every child.
We build innovative ways of enabling impactful collaborations between academia, the third, the public and the private sectors and delivering projects responsibly.
We bring together diverse expertise and the appropriate data from our community to address complex problems facing children.
We work with a range of partners to identify demand-driven challenges that require a data-driven solution.
All of our projects are child-focused and work towards one or more of the Sustainable Development Goals and/or the National Performance Framework.
"With a philosophy of delivering challenge-led, transdisciplinary, multi-sector collaborations that innovate responsibly, the Data for Children Collaborative, is a living and breathing example of what EFI is all about – using novel approaches to build better futures."

Alex Hutchison, Programme Director
In focus
Putting Ethics into practice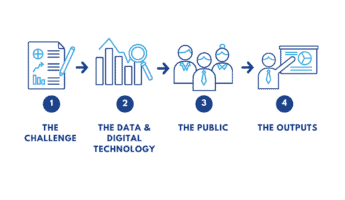 Data for Children Collaborative helped develop an Ethical Framework and Workbook for the Scottish Government's Data and Intelligence Network? The outcome is a practical and valuable tool that helped to embed ethical decision making across the Network's data science projects.