Following the current Director Professor Lesley McAra's end of term in spring 2022 the University of Edinburgh has appointed Professor Chris Speed to lead the institute.
Professor Peter Mathieson, Principal and Vice-Chancellor of the University commented on the importance of Edinburgh Futures Institute:
"The Edinburgh Futures Institute is a key investment for the University of Edinburgh and our future. It is an integral part of our commitment to the local communities in which we operate and for our place in the world. Recognising that the biggest challenges facing society are complex and multi-layered, and that insight and innovation often comes from bringing together expertise across different disciplines, EFI is creating a new environment for learning, teaching, research and engagement. It is doing so side-by-side with communities, business and industry and governments. My thanks to Professor McAra for her leadership and I welcome Professor Speed as the Institute's newly appointed Director."
Professor Chris Speed is currently EFI's Director of Innovation and Chair of Design Informatics at the University of Edinburgh. Professor Speed has been involved in Edinburgh Futures Institute since it's conception and has contributed to the creative direction of the Institute through the £7.4m Creative Informatics R&D Partnership, one of the nine AHRC funded Creative Industries Clusters in the UK.
In 2020 Chris was appointed Director of Innovation for EFI, and has helped to develop EFI's principles and partnerships toward a co-creative, ethical, and challenge-led culture for knowledge exchange and enterprise.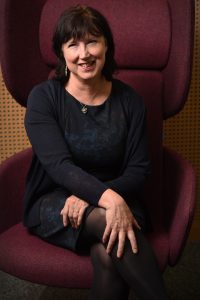 On being named the next Director of EFI, Professor Speed said:
"I am delighted to accept this offer and looking forward to working with everyone involved – EFI staff and our wider community and right across the University of Edinburgh and with our partners – existing and potential! EFI is among the most important projects within the University to signal a new direction in how we teach and research, and work with businesses and communities across the region and the world. My deep thanks and appreciation to Lesley who has been, and continues to be, a terrific Director, an inspired collaborator and a champion of all the things we are doing at the Futures Institute."
With Professor McAra's term of service ending in the spring the new appointment will provide time for transition and handover to the new Director. Professor McAra will by no means be leaving EFI. As her own research and long-standing interests in using research outputs to improve social justice, increase community involvement and measure the impact of the work we do and inform, continues to align with EFI's ethos.
Professor McAra will continue her role as Assistant Principal Community Relations for the University. On the new appointment, she said:
"I am delighted that my successor will be Professor Chris Speed. The ambition is for EFI to be a force for positive change in the University – and in the world. Chris has been a vital force in EFI's development to date and I know his drive, imagination and energy will take us successfully into the next exciting phase of our work."
Edinburgh Futures Institute is an opportunity for schools and staff across the University to do different things, explore innovative collaborations and create new types of partnerships through teaching, engagement and research.
Bringing people, data and diverse disciplines together in an open, what-if environment to spark the unexpected and create new ideas, the Edinburgh Futures Institute aims to make our complex world better. The Institute works on live issues, side-by-side with communities, business, citizens and governments.