19th April
6:00 PM
–
7:30 PM
BST
Come and join us for a performance event that takes a peek inside AI and emotion recognition.
Emotional, empathic, sentiment recognition systems, is an area of AI of significant implication for our current and near future lives. Pitched as capturing 'real-time emotion' and 'non-conscious responses', they have been developed as a method to measure and map our emotional expressions. Current real world use cases include HR, market research, post-natal parenting and education, near future uses include potential use within border control and a planned integration within the production of all new cars in the EU from 2024.
However, there are serious concerns about both the efficacy of these technologies and the ethics of use. In October 2022, the UK Information Commission warned companies to steer clear of emotional analysis technologies or face fines, due to "pseudoscientific" nature of the field as well as citing the potential of technology to breach people's rights and break laws (see report here). Central to these concerns is the reductive nature of these systems and the problematic standardised categorisations embedded within their databases, which present serious issues of representation and bias, with the potential to reinforce inequalities, including racism, sexism, ageism and ableism.  
But how does sentiment recognition technology actually work and how accurate is it? This performance will reveal how emotional AI databases actually work, behind the smoke and mirrors. It will tease out the affect these technologies might have on our near futures and behaviours, and present an opportunity to think about appropriate, fair real-world application and uses of AI technologies.
'It's All About the Feelings…' is a creative research project led by Beverley Hood, an artist and Reader in Technological Embodiment & Creative Practice at the University of Edinburgh, featuring actor, Pauline Goldsmith.
This event is presented by the Centre for Data, Culture and Society, and supported by The New Real, Tramway Supports, Edinburgh College of Art, the Edinburgh Futures Institute, Creative Informatics and Cove Park.
Performer Biographies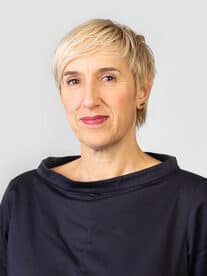 Beverley Hood is an artist and Reader in Technological Embodiment and Creative Practice. Her creative research work interrogates the impact of technology on the body, relationships and human experience through the creation of digital media and performance arts projects, and writing. She has extensive experience of collaborative work and project development involving a range of practitioners, including medical researchers, scientists, writers, technologists, dancers, actors and composers. Beverley's work has been performed, screened and exhibited at leading international venues. 
Pauline Goldsmith is a Glasgow based actor, writer, director and theatre maker from Belfast. She is also an occasional stand-up comedienne, creating and performing her own shows. Her critically acclaimed production – Irish wake, Bright Colours Only, continues to tour at home and abroad – in a hearse. She has worked with Vanishing Point Theatre for over twenty years as an actor and creative associate working most recently on Interiors, Wonderland, Tomorrow, The Destroyed Room and Tabula Rasa which she co-wrote and performed with Scottish Ensemble.
Chair
Dr Karen Gregory is a digital sociologist, ethnographer, and Senior Lecturer in the department of sociology at the University of Edinburgh. She is currently at work on a research project that examines workers' conceptualizations of risk in the on-demand platform economy and has particular interest in digital worker inquiry and the uses of digital and creative methods to understand the experience of platform work. She is author of many articles on our relationship with technology including 'Anger in academic Twitter: Sharing, caring and getting mad online' (2018) and 'Delivering Edinburgh: Uncovering the digital geography of platform labour in the city' (2020), and she is co-editor of Digital Sociologies (Polity Press, 2016).
Image credit: Chris Scott