My mother always told me that a challenge "makes you adaptable". It's always driven me crazy, but she's not wrong. I started my MSc here in September 2019, and by the time I became a TA for the EFI Narrative Futures program—as a PhD student—my entire postgraduate experience had become an exercise in rolling with the unexpected. Now in the third year of my PhD, I've only had one "normal" school year since I moved to Edinburgh. Everything else, by necessity, was played at least a little bit by ear.
When I say that the Fusion classroom is a grand toolkit for adaptability, I'm speaking as a student as well as an educator. My mother was right—unexpected challenges pop up everywhere, no matter what. In this post I'd like to discuss what adaptability looks like in a Fusion classroom, since the format is so amenable to a broad range of needs for both lecturers and students.
My job as the TA is to make sure that the classroom runs smoothly. In a Fusion classroom, this means I take on a number of different roles: the job is as much tech support as it is moderation and academic assistance. We are there to make sure that online students can hear, see, and experience the lectures properly; to answer questions from students who may have missed something or didn't quite understand a set of instructions; and to fix small technical errors, such as ensuring that students have access to the supplementary materials that the lecturer has provided.
In an ideal lesson, this means that the lecturers and guests will not have to sweat the small stuff; I'm there to take care of it for them. The nature of my job means that adapting to certain situations is always at the forefront of my mind. Even in an ideal situation, students attending online will have questions or occasionally need someone to stand in as a physical presence in the classroom.
In a less-than-ideal situation, my job often requires thinking on the fly. One intensive day had a brief power outage in the last half hour of our classroom time—for a high-tech classroom that relies on internet access, how are you supposed to handle that? But Fusion classrooms are fairly decentralized, and even that situation can be circumvented: an iPad with cellular data or a recording to be uploaded in an hour or two can mean the students who aren't present in the classroom won't miss anything.
Incidents like that are rare, of course. Generally, we faced more common problems—but they often had unique solutions. Students who felt ill were able to attend online without missing a step or bringing a cold to the classroom, and students who had scheduling conflicts on intensive days were able to catch up or attend from different parts of the world. On a few occasions, students were able to attend in-person in the morning and online in the afternoon.
The classrooms were even able to adapt to conflicting accessibility needs. In such situations, one student may benefit from a "quiet" table, with the screen turned off so as to better focus on the lecture; another may benefit from subtitles on the screen to assist with audio processing.
Of course, the adaptability of the format requires adaptability of the educators. If I take away no other lesson from the Fusion classroom, I want to take away this one: think outside the box.
The adaptability of the Fusion course has another huge benefit. It can be used to bring about some truly unique experiences for students who aren't attending the intensive days in person: experiences that would not be possible in the traditional online learning environment. This blog post is about lessons from the Fusion classroom, but one of the most interesting challenges I had a chance to explore wasn't in the classroom at all.
During one of the Core Courses, we had the opportunity to take a field trip: Alette Willis arranged for the students to visit Dynamic Earth and examine the way the museum utilized narrative in the exhibition and through storytelling events for schoolchildren. This presented a unique challenge for students who were attending the day online: most noticeably we would not be present in the Fusion classroom, but the exhibition itself also did not have internet access. Therefore, we had to adapt.
We recorded an overview of the trip through the museum; we also had students make recordings and take pictures themselves. Dynamic Earth has a large interactive component, and as students used the tools and engaged with the options available to them, they were able to share that experience with those who weren't physically present.
After the exhibition, when we attended the storytelling event, I acted as the eyes and ears of online students. The event was streamed through Microsoft Teams, who could then participate through the chat function. I operated this through my phone, which allowed me to bring the students into the activities as well. Through some impromptu cinematography the online students had a first-person perspective of everything that in-person students were participating in. It was, I think, a solid success: both online and in-person students said they enjoyed the experience.
The field trip really showed the breadth of what the Fusion Classroom can do, and I truly hope we'll be able to further explore that breadth in the upcoming year. It's such an innovative platform. I can't wait to see what else we come up with.
Image: Original illustration by Olivia Liseth, illustration student at the Edinburgh College of Art
---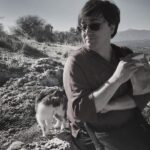 ALEX PENLAND
Alex Penland is a former museum kid. They spent their childhood running rampant through the Smithsonian museums, which kicked off an early career as a child adventurer. Now a Pushcart-nominated author, Alex is pursuing a PhD in Creative Writing at the University of Edinburgh and working as a Teaching Assistant for the Edinburgh Futures Institute. Their creative work has been internationally published: their novella Andrion is forthcoming from Knight Errant Press in August 2023. More about their work can be found on their website, www.AlexPenland.com, and they can be found on most social media as @AlexPenname.
---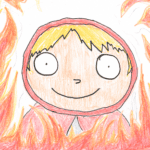 OLIVIA LISETH
Olivia Liseth is currently going into her 3rd year as an illustration student at the Edinburgh College of Art. She likes to make smooth, "designed" illustrations with markers and pencils, and loves drawing landscapes and buildings more than anything else. You can find her on Instagram @olivialiseth_art.