Global crises are interconnected, and often determined by the way that we use resources, and prioritise development and growth.
Planetary Health examines these factors and their consequences, and looks at ways in which redesigning, connecting, and leveraging the world's interdependent health, environment, and economic systems could offer new global solutions.
This MSc programme will help you develop critical, analytical, and data skills to understand and design solutions for global crises. In particular, crises at the intersection of the future health and wellbeing of people and our planet. You'll be supported to build, or develop, a career focused on tackling climate collapse, health, and other inequalities.
This interdisciplinary MSc programme has been developed with expertise from across the College of Medicine and Veterinary Medicine, the College of Arts, Humanities and Social Science and the College of Science and Engineering.
"The future of human health and wellbeing is profoundly connected the health of the natural world. Students on the Planetary Health MSc will explore the challenges facing human health and develop the knowledge and skills required to protect human and natural systems for future generations."

Professor Liz Grant and Dr. Rowan Jackson, co-directors, MSc Planetary Health
This programme is part of our interconnected postgraduate study options focused on complex global and social challenges.
You will be taught by academic experts from different subject areas. You will develop creative, critical and data-informed thinking that cuts across traditional disciplinary boundaries. You will have the space to think deeply about questions linked to your own passions and professional goals, and to develop a project based on an issue that you care about.
This degree will enable you to:
Analyse and characterise the extent and dimensions of Planetary Health challenges in different geopolitical or socioeconomic contexts.
Draw on and combine different disciplines and viewpoints when analysing challenges and designing solutions.
Work efficiently on complex projects centred on creative, sustainable, and context-sensitive solutions to Planetary Health challenges, together with teams that are diverse and values-driven.
Draw on and make use of relevant Planetary Health data in all above endeavours, maintaining a critical stance on data production and usage.
This programme includes core courses on the essential, critical, and hands-on data skills, enquiry methods, ethical, and creative capacities needed to underpin your study. It includes a wide portfolio of optional courses taught by academic staff from different discipline areas, and the opportunity to apply your learning in depth to an issue or concern which drives you for your final project.
As well as knowledge specific to your area of study, our core courses give you the skills and understanding you need to become a creative, confident, and critical citizen in an unpredictable world, including:
data skills
understanding of data ethics
an ability to interrogate issues of global scope
creative and analytic approaches that are vital for building better futures and succeeding in rapidly changing environments
An interdisciplinary programme can help your career and future employability.
The challenges of the modern world and our rapidly changing environment demand new ways of working that can disrupt the status quo and challenge established ways of thinking.
Edinburgh Futures Institute is part of a large, diverse, global community that includes more than 44,000 students studying in more than 150 academic disciplines. Here you will work at the highest academic level alongside some of the most influential people in your field. And you will be able to do it both online and on campus.
In addition to outstanding facilities, high quality teaching, and unique links to industry and innovation, University of Edinburgh graduates are ranked 25th in the world by employers,* making Edinburgh an excellent choice for a postgraduate education with prospects.
* QS World University Rankings 2022
Our distinctive postgraduate programmes and interdisciplinary approach benefit graduates in a number of ways that support future employability and development.
This includes developing core data skills, the knowledge and ability to apply ethics to data use and decisions, how to interrogate issues of global scope, and the creative and analytic approaches that are vital to approach challenges in new, robust, and data-informed ways.
Recent graduates will be well placed to enter the job market as 'translators' between data scientists and people operating at strategic or operational levels – potential roles include private, public, and third sector project and programme managers, policy advisers, analysts, and consultants.
For students with prior professional experience, the programme will support career development (and transition) as leaders in new or existing sectors with a strong data and/or inclusion aspect.
The core elements of the programme address the data and higher-order skills we know are important for the future of work, confident and critical citizenship, and a thriving, just society.
We have lots of exiting opportunities to connect our diverse and talented students with a range of professional and sector specific experience.
In your final project, you will be able to apply your learning in depth to a domain, issue or concern which drives you. It could be:
based on your own personal or professional interests
defined by your employer
proposed by one of our EFI industry, third-sector or community partners
aligned to one of the EFI research programmes
Here at the Edinburgh Futures Institute you will be part of a dynamic and diverse community, whether you choose to study on campus or online.
Our unique fusion teaching approach means you are able to study with an on campus and online cohort – benefiting from diverse and global groups of peers, in fully supported digital learning environments and in our beautiful, historic and central Edinburgh campus.
Whether you study on campus or online, you will benefit from being a student at a global institution, recognised for our world-leading research, development and innovation, and 425 years of excellent teaching.
You will have access to a wide range of University study support services, such as the University's extensive library collections, world class laboratories, museums and galleries, impressive sports facilities, and a huge choice of student societies and activities.
The Student Careers Service, Student Counselling Service ,and University Health Centre are available and free to students, while our Student Disability Service provides a range of support for students with disabilities. We also offer excellent childcare services, making it easier to juggle parenthood and study.  
We are committed to being a world leader in addressing global challenges including poverty, climate change, and the growing demand for energy, food, and water.
As Scotland's first Fairtrade University, we have been promoting better conditions for farmers and communities in developing countries since 2004.
We have championed environmental sustainability since the early 1990s, and were a founder signatory to the Universities and Colleges Climate Commitment 2009 and to the 10:10 campaign.
The University is host to several Global Academies committed to tackling issues related to health, justice, environment, and agriculture and food security. The Academies cross boundaries in research and teaching, adopting a multi-disciplinary response to challenging global issues.
Edinburgh Futures Institute offers a rich array of events, including the global Edinburgh Futures Conversations series which is aimed at promoting global cooperation in solving the critical challenges facing the world and brings together global influencers, academic experts, policymakers, writers, activists and artists, including alumni and students.
We also have dynamic seasonal programmes of public events, mostly delivered in hybrid format, which are free and open to all. Our Autumn 2022 season, First Breath, is available to watch online. The Futures Institute's Spring 2023 Season – Love Machine, which focused on the interconnections between artificial intelligence and being human is also available to watch online. Sign up to our mailing list if you would like to receive event information.
We offer a unique experience to our graduate students, including the opportunity to work with leading academics and diverse communities and partners in an ambitious, creative, "what-if" environment that will let you explore your passions.
The events and activities that are part of your programme are available both online and on campus, starting with welcome activities that include a mixture of introductory events and social activities.
Details of our tuition fees, as well as the scholarships and funding available to help you pursue your ambitions.
Since online and on campus students study together, and we want to provide flexibility to move from on campus to online study, you will pay the same rate whether you choose to study online or on campus.
Students studying on a part-time basis will pay pro rata over multiple years. It is possible that the University will apply an inflationary increase in future years.
Find more information about tuition fee rates, along with information about how to pay your tuition fees and how we determine your fee status here:
Scholarship opportunities
For further information about scholarship opportunities and funding your postgraduate study, please visit the University of Edinburgh's Scholarships and Student Funding Service.
A UK 2:1 honours degree, or its international equivalent, in any discipline.
We will also consider your application if you have other professional qualifications or experience; please contact us to check before you apply. In particular, we welcome applications from professionals with experience (e.g. working in companies, government, or third sector organisations) designing or implementing projects, programmes, or policies that aim to diminish inequalities.
These entry requirements are for the 2023/24 academic year and requirements for future academic years may differ. Entry requirements for the 2024/25 academic year will be published on 2 October 2023.
What to expect at Edinburgh Futures Institute
Flexible study options, fusion learning, interdisciplinary teaching, and a focus on complex global and social challenges.
You will have the space to think deeply about issues linked to your own passions and professional goals.
Our programmes are an interconnected portfolio of postgraduate study offering a shared core and unique fusion learning. Our focus is on interdisciplinary teaching and research that addresses complex global and social challenges. You will be taught by academic experts from different subject areas. And you will develop creative, critical and data-informed thinking that cuts across traditional disciplinary boundaries.
CHRIS SPEED
[Director of Edinburgh Futures Institute]
a warm welcome to all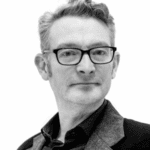 Welcome to the Edinburgh Futures Institute, an astonishing project that has taken many years to develop and is now delivering one of the most exciting curriculums, research cultures and innovation spaces across the UK and Europe.
Bringing together 21 schools across the University of Edinburgh and putting them into one space; one global space where we have online activity as well as in this extraordinary new building, the conversion of the Royal Infirmary right in the middle of Edinburgh.
Alongside the students are researchers, research centres, all collaborating through interdisciplinary lenses to produce an astonishing series of projects that address many of the social, environmental and economic concerns of the day.
Inside the building we'll host tenants who we collaborate with from civic, social, as well as commercial organisations, all wanting to work together to understand how best to address the big problems of our time, really addressing collaboratively the ideas of what it means to think about futures. So welcome to the Futures Institute and come and join us.
We use an approach called 'fusion teaching' so you have greater choice about when you study on-campus, and when you study online.
If you are considering full-time online study, please note that all courses require significant synchronous engagement in the classroom. Get in touch with us with questions before applying.
Interdisciplinary means the ability to synthesise and apply knowledge and skills from across different disciplines.
It is crucial to addressing complex challenges and planetary-scale issues. It is also increasingly important to employers and future career development and supports the modern skills needed by today's graduates.
We offer fundamentally interdisciplinary study and draw on diverse disciplines to support you to work creatively and ethically with all kinds of data. Each postgraduate programme develops interdisciplinary perspectives in the ways most appropriate to its specific focus and offers you the flexibility to design your own disciplinary pathway through your studies, and through your project-related work.
We are creating innovative ways of bringing together disciplinary expertise in response to complex problems.
Studying in a challenge-led environment means you will learn to scope, explore, understand, and work on complex, multi-stakeholder challenges for the benefit of society.
Developing insights from across disciplines and applying them to complex challenges (organisational, cultural, societal or environmental) are fundamental to your studies at the Edinburgh Futures Institute. In your final project, you will be able to apply your learning in depth to a domain, issue or concern that you care about.
For most programmes you can choose to define your own project, bring a project your employer would like you to address, work on a project set by one of our external partners or align your project to one of our research programmes. You will have support to choose and develop your final project.
Data shapes our world and increasingly underpins our lives, work and learning.
Understanding how to use data ethically, innovatively and collaboratively is essential for citizens, professionals, businesses and governments. It is also critical for employers and professionals across different sectors.
All our MSc programmes include core data skills which will help you to learn data-led decision making, data innovation and collaboration, and the fundamentals of data ethics. While supporting you to use your creative skills in the analysis and representation of data-informed and qualitative inquiry.
We're working with organisations and professionals, from sectors like fintech, creative industries, public services and tourism to tackle challenges, improve products and services, and develop new ones through better use and understanding of data.
Ethical data and advanced data skills
Data and AI Ethics is a central and cross-cutting theme at Edinburgh Futures Institute, this is underpinned by the work of the Centre for Techomoral Futures (CTMF).
In addition to the core data skills developed through our programmes, postgraduate students also have the opportunity to explore advanced digital methods with training from the Centre for Data, Culture and Society (CDCS).
Fully embedded in our approach to teaching and learning is the art and practice of co-creation.
The outcomes of a co-creative culture are wide and varied and support trust-building, access to talent, networking, personal development and growth, and sharing ideas.
Our postgraduate programmes encourage students to exchange and explore how knowledge from multiple perspectives (civic, technical, corporate and social) can tackle the significant challenges that society faces in the present, and near futures. Our learning environment supports the flow of ideas and inspiration between learners, researchers, peers, industries and businesses and organisations.
"Connection, co-design, communities – this is a space where academics from diverse fields such as law, data science and art can unite with students, communities, charities, companies and policymakers to co-create solutions to shared problems in ways they otherwise couldn't."

Professor Chris Speed, Director of Edinburgh Futures Institute, Chair of Design Informatics
Develop sought-after entrepreneurial and innovation skills and be supported to pursue new, creative ideas and take risks.
From design thinking to new approaches to social innovation, we recognise that entrepreneurs come in all shapes and sizes.
With a range of support from across the University of Edinburgh, and a dynamic community of partners within the Futures Institute, we are creating collaborative environments to pursue new endeavours.
The University of Edinburgh's enterprise service for students and recent graduates (two years post-graduation) can help you startup, sustain and develop your entrepreneurial journey for any business, social enterprise or freelance endeavour.
Learn new skills, join the thriving enterprise community, attend events and workshops, enter a competition or programme and receive one-on-one support. The service is free and you own 100% of your IP.
Most of our programmes offer a lot of flexibility in how you choose to study.
You can study on a full-time basis over one year, or part-time over two or three years.
You can register for a full MSc, or for a Postgraduate Diploma or Postgraduate Certificate. You can study our programmes either online or on-campus, or combine on-campus with online study (though please note that the MSc Creative Industries programme is full-time and on-campus only so it can benefit from Edinburgh's strong cultural organisations).
There's a lot to consider when selecting postgraduate study options. Here are some commonly asked questions. If you have others and would like to discuss please get in touch.
Yes you can. Options courses are open to students across programmes and outside of particular subject areas. However, this is always subject to availability and enrolment requirements and particular programmes will have precedence for some options courses related to their programme.
You can take a course offered by a different school but you must have approval from the Course Organiser of the course you wish to study before this can be confirmed. Certain courses may have pre-requisite requirements so you must also ensure that you have the appropriate level of knowledge to enrol. Edinburgh Futures Institute does not have authority over courses in other schools or areas of the University, so we cannot guarantee availability on outside courses.
The weekly time commitment for students depends on several factors, including your programme, course choices, and mode of study.
For guidance, we expect full-time students to study for approximately 35 hours per week, and part part-time (2 year) students to study for approximately 12-15 hours per week. For students studying the part-time (3 year) programmes, the weekly time commitment will vary depending on their own preferences or circumstances.
Edinburgh Futures Institute's taught courses are all 10 SCQF credits, and each course involves a minimum of 14 hours of synchronous engagement (where students work together at the same time). A full-time student will study six 10-credit courses per semester. A part-time (2 year) student will study approximately three to four 10-credits courses per semester.
Yes, lectures or presentations given during the intensive sessions are recorded and made available after the session. Group work and group discussions are not recorded.
No, a background in coding is not necessary to study at Edinburgh Futures Institute. All fundamental coding skills that might be needed for a course will be taught to students. However, an awareness of different systems or skills may be beneficial.
Throughout your studies at Edinburgh Futures Institute, you will have several sources of academic and personal support. Your Programme Director is a key person who offers academic guidance to on your arrival, and each programme also has a dedicated Cohort Lead who is responsible for building community among students.
Additionally, students are assigned a Student Adviser. Your Student Adviser provides a range of support, including general course guidance, signposting University policies or services, advice on wellbeing matters, or tailored support for students with additional needs.
For students who plan to complete the Knowledge Integration and Project Planning and the Futures Project courses (the project), you are also assigned an academic staff member who supervises your work and provides guidance on your final project.
We contact students regarding course selection at the end of August and personalised timetables are available when teaching starts. We aim to provide you with timetabling information before you make your course choices, so you can make informed decisions and avoid potential clashes.
Edinburgh Future's Institute is founded on interdisciplinarity so there is a significant amount of group work within our courses. We encourage interdisciplinary thinking and working by enabling students enrolled on different programmes to come together in groups and share ideas. Course assessments also reflect this and many courses include both individual and group assessment tasks.
Fusion learning and teaching involves a mix of synchronous sessions (where all students work together at the same time), and asynchronous activities (where students work at their own pace). During synchronous sessions, students on the Edinburgh campus work with online students who join the session via Microsoft Teams. You can find out more about fusion learning or take a 360-degree tour of a Fusion classroom.