[ap_column_wrap][ap_column span="3″]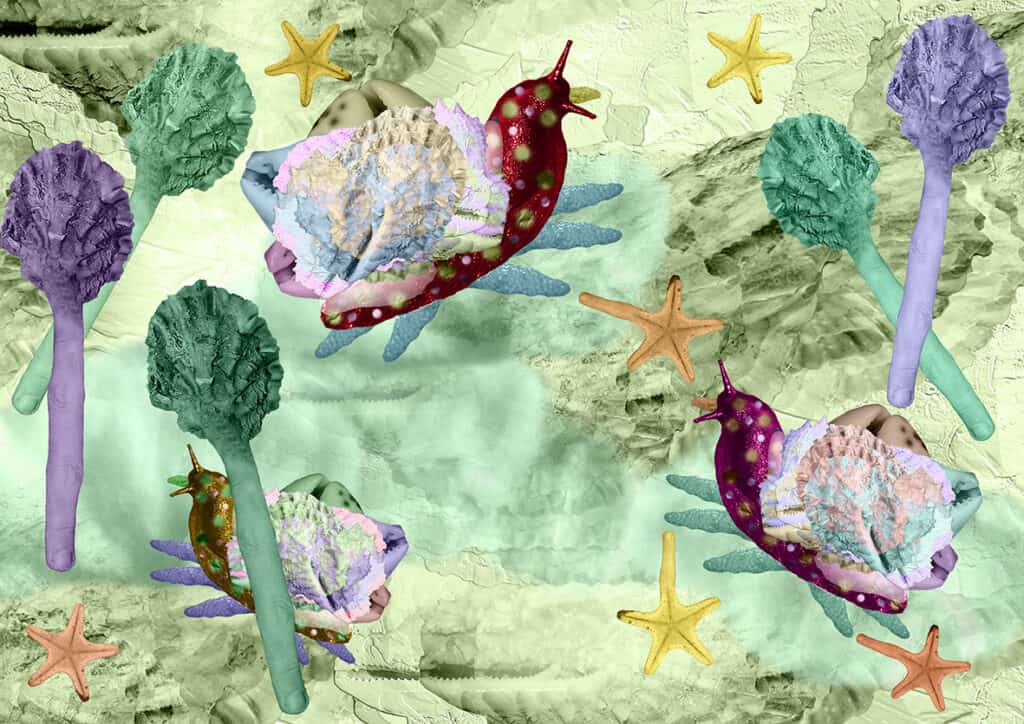 The fragile climate, the objectification of female twins and the meaning of life itself are some of the issues students are grappling with in a new exhibition.
Trading Zone 2019 brings together 14 emerging talents, spanning 11 nationalities, from across the University of Edinburgh to explore ideas and push boundaries in unexpected ways.
The exhibition runs from 25 May until 22 June, 10-5pm, Tuesday-Friday, 12-5pm Saturday, at the University's Talbot Rice Gallery.
Diverse artworks
Cat and Éiméar McClay's colourful installation looks at the added levels of misogyny they face from being women and identical twins.
Their playful animations show body parts slowly moving in unnerving ways.
The artists will also paint abstract digital portraits of each other at several points during the exhibition's run.
[/ap_column][ap_column span="3″]
Global issues
Wildfires that spread through Chile in 2017 are the focus for student Luis B. Guzmán.
The fires were caused by flawed forest plantation techniques, and his epic film uses drone footage and animation to highlight the devastation.
Cody Lukas' large artwork brings together hundreds of texts that try to answer what it means to be alive.
Elsewhere, Daphne Jiyeon Jang's animation showing a tower of moving statues will be projected on to a six-metre high screen. The figures – which are based on Golden Boy, the statue that sits on Old College's dome – move and flex as they balance on top of one another.
Varied disciplines
PhD student and writer Mohamed Tonsy is using pottery – incribed with words from his forthcoming novel – to express his experiences of the 2011.
Other artworks on show explore topics, such as stockpiling ahead of Brexit, cotton picking in Uzbekistan and climate change.
The exhibition is sponsored by the University's Edinburgh Futures Institiute, which aims to bring diverse disciplines together to tackle some of the world's biggest challenges.
"Trading Zone 2019 reflects the precarious world in which we live. Throughout however, there is still a sense of vibrancy and hope. The emerging artists have stretched the boundaries of their own disciplines, creating an eclectic, thought-provoking exhibition not to be missed." – Tessa Giblin, Director of Talbot Rice Gallery at the University of Edinburgh
Related links
[/ap_column][/ap_column_wrap]